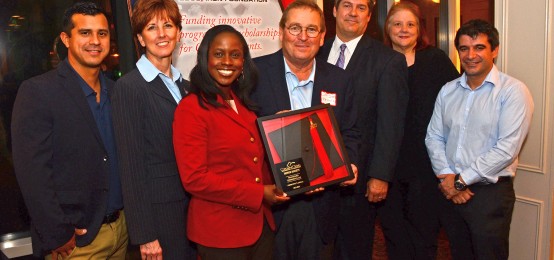 CCISD's new Reverend Harold T. Branch Academy opened in Fall 2013, complete with its own approach to developing hearts and minds. The campus is designed to simulate a real-world business environment, with students completing high school requirements at Branch Academy and also earning college credits by attending classes at Del Mar College. This business model and approach to learning is beneficial for students who are attending college while in high school, and also for local businesses who see their potential and the commitment of CCISD to develop a well-educated workforce for Corpus Christi.
Representatives of one local business who took notice of the good work at Branch is Trafigura Terminals LLC, an international commodities trading and logistics company with a new facility in Corpus Christi. Trafigura made a commitment this year to donate a total of $40,000 to the Corpus Christi Education Foundation to provide support to students attending college while at Branch Academy through the "Trafigura Scholars Program."
During this two-year commitment, $20,000 will be provided each year for students' certification and testing fees; uniforms, equipment, and materials/devices necessary for daily work or study; student leadership training to support certifications and career development (including SkillsUSA); and/or National Technical Honor Society campus materials or regalia. Funds are provided at the discretion of Dr. Tracie Rodriguez to students with greatest financial need.
For more information about Branch Academy or its programs, visit http://branch.ccisd.us or call (361)-878-7480.