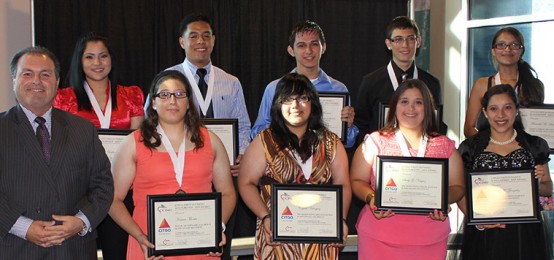 Eighty-two CCISD graduates not only earned a high school diploma in 2013, but in doing so were the very first in their families to make that achievement. The Corpus Christi Education Foundation hosted the second annual CCISD First in Family Graduate Ceremony on Wednesday, June 5, 2013, to honor these students and their families for the profound commitment necessary to start a new legacy for future generations.
"This is one of the most significant achievements that we can recognize in our district, and among our community," said D. Scott Elliff, Ed.D., CCISD Superintendent of Schools. "It's our daily pursuit, and ultimately our hope, that every one of our students earn a high school diploma. For the graduates who were honored at this event, they not only accomplishing that goal, but set an example for all that anything can be achieved, anything is possible."

First in Family graduates from Carroll High School, Collegiate High School, King High School, Miller High School, Moody High School and Ray High School were recognized (with some graduates having also attended Solomon Coles High School). In addition, CCISD welcomed guests and elected officials from the community, as well as event sponsors including H-E-B, the Port of Corpus Christi, and Cup Graphics Screenprinting.
CITGO Corpus Christi Refinery also awarded a $1,000 CITGO First in Family Scholarship to two graduates from each of the six high schools represented – a $12,000 total contribution in support of higher education for these award winners, established through the education foundation.