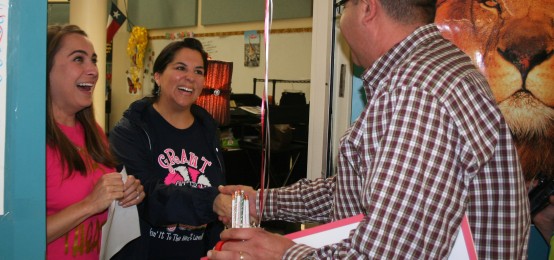 This morning, December 7, 2012, the Corpus Christi Education Foundation (CCEF), together with partners from Coastal Community And Teacher's Credit Union and NSIDE Magazine, as well as CCISD Trustees and administrators, traveled across the city to surprise CCISD educators with grant awards totaling $46,800. The 25 awards, distributed at 19 campuses, will fund "outside-the-box," creative teaching ideas through new programs designed to increase student engagement.
"The education foundation fulfills many needs for our schools every year," said D. Scott Elliff, Ed.D., CCISD Superintendent and CCEF executive board member. "These grant awards do just that, by meeting needs in our classrooms and funding creative ideas from our teachers that make all the difference between a quality education and an 'above-and-beyond' education."
 
More than 70 outstanding ideas were received in grant applications this year, submitted by more than 180 CCISD educators. Award recipients were selected from those who desire to extend education beyond the textbooks and provide hands-on, innovative and lasting learning experiences for CCISD students.
These grants are provided from the CCEF thanks to the support of many in the community who highly value the quality of education for CCISD students, including our Valedictorian partners: Coastal Community And Teacher's Credit Union, the Corpus Christi Caller-Times, and NSIDE Coastal Bend Magazine, as well as our Salutatorian partners: American Bank Center; Fulton-Coastcon; Linebarger, Goggan, Blair & Sampson LLP; and Stripes LLC among many more.
CLICK HERE for a complete list of this year's grant programs and award recipients.
CLICK HERE and select the IMAGE above "2012 Grants for World Class Schools" to view photos. More photos will be posted throughout the week.