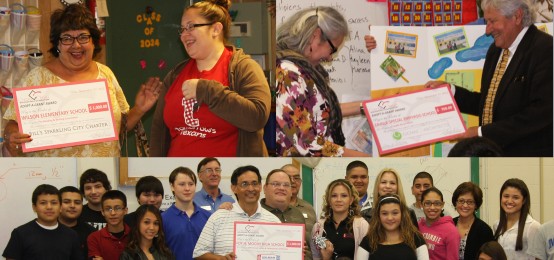 Representatives from Bill's Sparkling City Charter, Gignac Architects and Holman Boiler Works, Inc., joined CCEF board members this morning to surprise educators at three CCISD schools with grant awards totaling $2,760. These awards were part of a new opportunity established by the Corpus Christi Education Foundation for the first time at an event in Spring 2012, through which donors can "adopt" and award a specific classroom grant.
This new Adopt-A-Grant opportunity supports the CCEF's annual Grants for World Class Schools. "Every year, the education foundation receives many outstanding grant ideas from CCISD teachers," said CCEF Chairman Andy Crocker, "and we do our best to award as many as possible with available funds. This Adopt-A-Grant system was suggested as a way to fund more of these programs, so that we can reach across the district and, as a community, make an even bigger difference for our students."
Mr. Crocker said that the education foundation plans to consider offering Adopt-A-Grant opportunities for all interested supporters as early as Spring 2013, and extended his thanks on behalf of the CCEF to the three businesses who adopted grants in 2012: "We are so grateful to Bill's Charter, Holman Boiler Works and Gignac Architects for adopting these three grants in the first year, and we also thank and congratulate the teachers who were awarded today for their vision to give every student the best education they can."
The following Adopt-A-Grant awards were distributed for 2012:
"The Reading & Writing Connection" by Corie Kaminski at Wilson Elementary School – Adopted for $1,000 by Bill's Sparkling City Charter
"OSHA Safety & Professional Certification" by Jaime Trevino at Moody High School – Adopted for $1,000 by Holman Boiler Works, Inc.
"El Jardin de los Ninos" by Edna Soulas & Anna Ramirez at Zavala Special Emphasis School – Adopted for $760 by Gignac Architects
For more information, call 361-695-7412 or email information@ccef-ccisd.org.