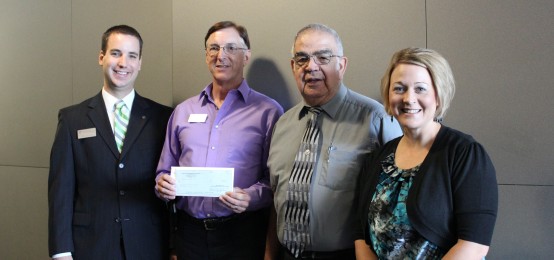 The Coastal Bend Community Foundation (CBCF) funded a grant proposal from the Corpus Christi Education Foundation (CCEF) in September 2012 for the "Little Learners" program to benefit CCISD students. This $5,000 award will make it possible to enhance learning opportunities, both in the classroom and at home, for children enrolled in Child Education Centers at five CCISD campuses.
"Little Learners" will help develop early language and literacy skills in children of teen parents and to support teen parents (CCISD students) in actively engaging their children in learning experiences at home. The curriculum is based on knowledge of theory and research in early childhood education and best practices, incorporating experiences that foster learning through reading, guided play, active discovery, and parent involvement. This programs will promote intellectual, language, physical, social, and emotional development in toddlers, creating school-readiness and building a foundation for later academic and social competence.
Many thanks to the CBCF for this generous donation, and its continued support of CCISD students, and the greater community.
Photo: From left, CCEF Board Members Jerret Krouse, Andy Crocker and O.B. Garcia, and CCISD Director for Communications Lorette Williams, receive the CBCF grant award at a presentation on September 13, 2012, at the Del Mar College Economic Development Center.