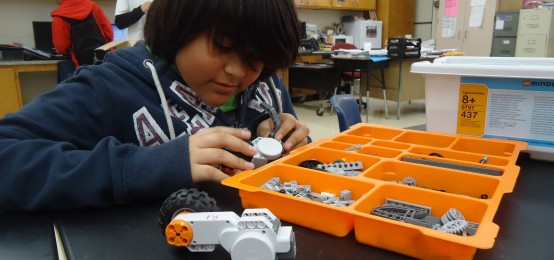 A valuable partnership with Valero Bill Greehey Refinery provided hands-on learning experiences through robotics and technology for more than 4,000 CCISD students. Valero awarded a $15,600 grant to the Corpus Christi Education Foundation in 2010 for robotics programs, and a $16,600 grant in 2011 for science technology implemented for the first time this past school year.
This $32,200 contribution through the Valero Benefit for Children Charity funded robotics programs and after-school clubs at Prescott ES, Travis ES, Zavala SES, Evans SES, Driscoll MS and South Park MS. It also funded Smartboard technology and materials to integrate high-end imagery and cutting-edge, three-dimensional and interactive learning tools into the science curriculum at Allen ES, Gibson ES, Evans SES, Oak Park SES and Travis ES.
"Our students were really excited about working with robotics," said Sandra Clement, Principal at South Park MS. "They had to problem solve and think creatively, engineering their robots to work and maneuver by building them from the ground up and programming them to act and respond — it was amazing to see how much they learned through something they enjoy so much!" Tom Martin, Science Teacher at Zavala SES, said the students in his robotics club were so excited that he even had some inquire about engineering programs available at Texas A&M University-Corpus Christi.
The Valero for Science Students Enhancement Program was just as successful at Travis ES as the robotics programs, said Principal George Lerma. "It's been a tremendous help for our classrooms to be equipped with 21st century learning through interactive whiteboard technology. The Valero funds have given students the ability to touch, manipulate, and test outcomes as part of science lessons — and with these new tools, they have been inspired to learn and even be creative."
In addition to having made such a big difference this school year, the materials provided through these Valero programs are sustainable and will continue to enhance education for the next several years at these schools. Many thanks to our partners at Valero for their support of these CCISD students!
CLICK HERE to view more photos – "Valero Robotics & Science Programs."