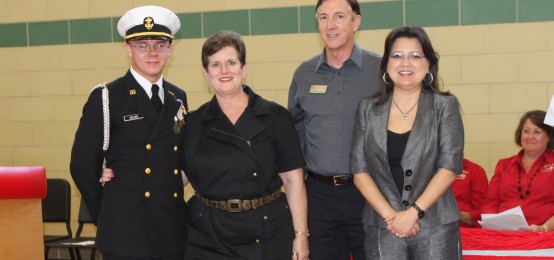 Congratulations to Miles Segler, recipient of the 2012 Rick Mead Memorial Scholarship. The Corpus Christi Education Foundation and the family of the late Lieutenant Commander (LCDR) Eric M. "Rick" Mead awarded $1,000 to Miles earlier today; an award intended for a graduating senior in NJROTC at W.B. Ray High School. LCDR Mead had been a Senior Naval Science Instructor with NJROTC at Ray High School for 14 years. When he passed away earlier this spring, the family elected to give back to the community and Mead's students through this scholarship award in his memory.
"Rick Mead was universally loved and respected by his cadets and the faculty at his school," said fellow Naval Science Instructor DC1 (SW/MTS) Donald Britt. "From my first day on the job ten years ago, he made me feel like part of the team. Working with him has been an honor and a privilege; he fulfilled any and all requests whenever possible and was greatly endeared by the Corpus Christi community. I will never forget Rick, and he will forever be missed."
MEAD SCHOLARSHIP DONATIONS: The Mead family is raising donations for the purpose of establishing a long-term scholarship fund. Those interested in donating may contact Crystal Mead at (361) 946-0027 or send checks payable to the Corpus Christi Education Foundation to: CCEF | ATTN: Mead Fund, P.O. Box 2822, Corpus Christi, TX 78403.
Donations can also be made via this website (click "Donations" at top and follow the link; be sure to click "Add special note" and type "Mead Fund" on the submission page during checkout).
For more information, call the CCEF at (361) 695-7412.