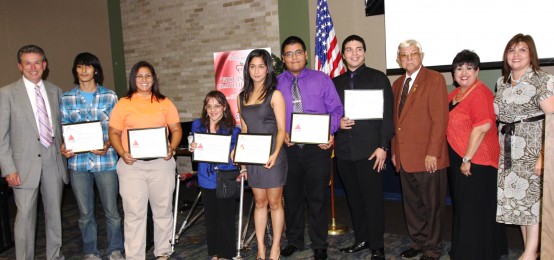 More than 135 students will not only graduate from high school this year, but in doing so they will be the start of something BIG – a new direction, a new legacy for generations to come. Six high schools in the Corpus Christi Independent School District (CCISD) hosted a first-ever, district-wide "First in Family" Graduate Reception yesterday evening  to honor students who will be the first in each of their families to earn a high school diploma.
CITGO Corpus Christi Refinery donated $6,000 to the Corpus Christi Education Foundation for the purpose of awarding a $1,000 college scholarship to a "First in Family" Graduate from each of the six high schools represented. The following students received scholarship awards:
Rosalinda Salgado – Carroll HS
Jose Medina – Collegiate HS
John Fernandez – King HS
Joseph Harris – Miller HS
Jacquelina Luera – Moody HS
Natalie Paz – Ray HS
Event sponsors supporting all of these students and making this event possible included the Corpus Christi Education Foundation, COECO Central Office Equipment, Cup Graphics Screenprinting, Del Mar College, FastSigns and H-E-B.
 "This is one of the most significant achievements that we can recognize in our district, and among our community," said D. Scott Elliff, CCISD Superintendent of Schools. "It's our daily pursuit, and ultimately our hope, that every one of our students earn a high school diploma. For the graduates being honored at this event, they are not only accomplishing that goal, but setting an example for all that anything can be achieved, anything is possible."
In addition to "First in Family" graduates from these six high schools, CCISD welcomed guest speakers including: Ron Olson, City Manager; Robert Rocha, Corpus Christi Fire Chief; and Dr. Haysam Dawod of Dawod Dental Center. Olson and Dawod were also the first in their families to earn a high school diploma.