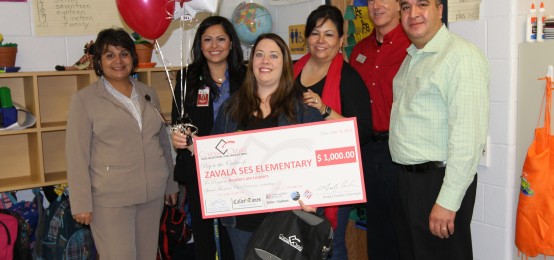 CCISD students in 58 classrooms across the district will be learning in new and innovative ways this spring. Their teachers received one of 25 Grants for World Class Schools awarded today during surprise visits from the Corpus Christi Education Foundation. Special thanks to some of our Partners for World Class Schools from Coastal Community And Teacher's Credit Union, the Corpus Christi Caller-Times, American Bank Center and Stripes LLC, who were able to join us today and award these grants.
The education foundation received 75 applications from more than 175 educators. Grant recipients were selected from those who desire to extend education beyond the textbooks and provide hands-on, innovative and lasting learning experiences for CCISD students.
Congratulations to all our teachers and students, and many thanks to all our partners — it's through the generosity and support of our community that the foundation was able to fund these 25 innovative programs in our district.
More photos will be posted soon. To learn about the programs awarded this year and receive updates on their progress in Spring 2012, sign up for the CCEF newsletter at the bottom of this page. For more information, call (361) 695-7412.