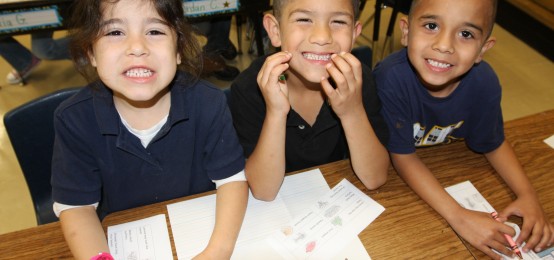 Students in five kindergarten classrooms are investigating organisms "like never before," said teachers who implemented a program funded by the Corpus Christi Education Foundation in Spring 2011. The grant allowed teachers to purchase materials for exploratory research as part of an engaging curriculum developed at Meadowbrook Elementary School.
More than 85 kindergarten students were able to personally observe and analyze living and non-living specimens in the classroom through the use of an ELMO Visual Presenter, Optoma Projector, document camera and other materials. Teachers used technology to give every student a close-up view of the tiniest parts of butterflies, praying mantises, ladybug larva, caterpillars, Venus flytraps, and various plant parts, plus  the ability to observe these organisms in motion. They recorded their discoveries and observations in interactive journals, and shared their projects with classmates using their new resources.
"The impact on our students has been phenomenal!" said Teacher Mary Beth Tierce. "The program exceeded our expectations, and we are already brainstorming new and innovative ways to further enhance our teaching practices with the advances made this year." Mrs. Tierce and her colleagues, Molly Zimmerman, Phyllis Gibson, Gladys Tilley and Dora Rios, are now using the technology and materials not only for science, but in other subject areas including math and language arts.
For more news featuring CCISD students and information about upcoming events, sign up for our newsletter at the bottom of this screen.