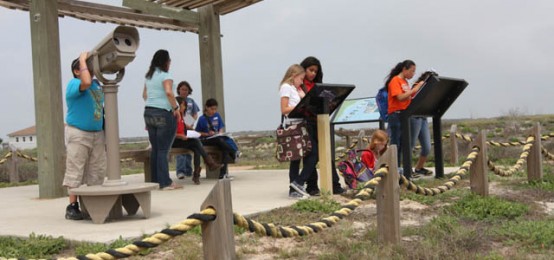 This Spring, more than 80 students put their knowledge and skills to use at the University of Texas Marine Science Center in Port Aransas, after receiving a grant from the Corpus Christi Education Foundation. Fifth graders from Chula Vista Academy of Fine Arts were near completion of a six-week program designed to integrate science and visual arts through study and hands-on application. The first phase included introductions to inherited traits in plants and animals, the study of erosion and weathering,  artistic sketching methods and application, and the creation of personal sketches based on observation in the classroom.
The second phase was an all-day excursion to explore and experience the world within the wetlands of Port Aransas, while developing skills to cite what they observed with data (scientific) and imagery (artistic). Students returned with a wealth of information to the classroom. Their experiences were documented, and various organisms collected from the wetlands were studied using digital zoom microscopes in the science classroom. Students created original art using oil pastels based on sketches of their discoveries.
 Teachers Susan Gaczewski and Alex Amador developed the program and proposed it to the education foundation. "CCEF sponsors, thank you so much for allowing these students to stretch their learning in ways we were unable to provide before this grant," said Mrs. Gaczewski. "It truly got the students excited about learning." From Mr. Amador: "THANK YOU! From all the 5th grade teachers and students at Chula Vista — we truly appreciate your generosity!"
For more news featuring CCISD students and information about upcoming events, sign up for our newsletter at the bottom of this screen.